Conclave of RSETI Directors of State Bank of India - A Brief Report
REPORT ON THE CONCLAVE OF DIRECTORS OF RSETIs SPONSORED BY STATE BANK OF INDIA HELD AT SBIRD, HYDERABAD FROM 16th TO 17th JULY 2012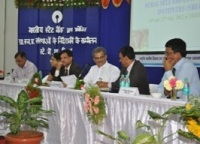 A 2-day Conclave of RSETI Directors of State Bank of India was held on 16th and 17th July 2012 at SBIRD, Hyderabad. The programme was inaugurated by Sri.V.Murali, Deputy Managing Director, State Bank of India and Sri M V Rao, IAS, Director General, NIRD, Hyderabad delivered key note address. Smt Renuka Kumar, Dy Secretary, MoRD, GOI, Sri J K Sinha, Chief General Manager [RB], SBI,Sri R Sharma, Chief General Manager, SBI, LHO, Hyderabad, Sri Girish Pande, General Manager and Principal SBIRD, Dr.V.Eswaran, General Manager and Sri Vijay Kumar, DGM, SBI, Sri K N Janardhana, National Director for RSETIs, NATIONAL CENTRE FOR EXCELLENCE OF RSETIs and other officials from the Bank participated.
On the second day, Dr D Veerendra Heggade, President, National Advisory Council for RSETIs delivered his valedictory address in which he said that RSETIs which are spread across length and breadth of the country are a boon to the unemployed youth and complimented State Bank of India for taking the lead in opening 108 RSETIs in various States across India. He advised the Directors to undertake the assignment with all passion and seriousness so that they can deliver their best in addressing the unemployment problem of the country.
Sri Bhagavanth Rao, Managing Director, State Bank of Hyderabad, Smt. Renuka Kumar, Dy. Secretary, MoRD, Sri Mohanaiah, Chief General Manager, NABARD, Hyderabad and other dignitaries participated. All of them appreciated the rich contribution made by Dr D Veerendra Heggade in the field of entrepreneurship development by establishing RUDSETI way back in 1982
It was a splendid experience for the top management of the Bank, all 108 Directors and other participants to hear about and understand the experience of the RSETI movement from Dr. D.Veerendra Heggade. All the participants were elated by the guidance given by Dr. D.Veerendra Heggade and inspired by his words. All the stake holders assured Dr D Veerendra Heggade that they will strive their best to discharge their duties to meet the expectations of the MoRD, Government of India.