National Meet of RSETI StakeHolders for Recognition of Best Performers
With a view to mentor and monitor the activities of RSETIs across the country and to provide training/capacity building of the Directors of these RSETIs, MoRD requested Dr.D. Veerendra Heggade to lead the entire movement with his visionary leadership. In this context, the Memorandum of Understanding was signed on 29th July 2011 on the roadmap approved at the various forums for improving the effectiveness of the RSETIs. These RSETIs have been entrusted with the task of training a minimum of 750 unemployed youth each year with a minimum settlement rate of 50% in the first year of operation and take it to 70% by the end of third year of signing the MOU
At the time of signing of the MoU, threre were 354 RSETIs functioning across the country and during the period from 29-07-2011 to 31-3-2012 i.e. in a matter of 8 months an additional 172 RSETIs have been established and as on 31-3-2012 there were 526 RSETIs functioning across the country as per the report of NIRD, Hyderabad.
With a view to incentivize the RSETIs, the Ministry of Rural Development introduced a system of grading the RSETIs on several parameters concerning the functioning of the RSETIs. Accordingly, 506 out of 526 RSETIs functioning in the country as on 31.3.2012 were graded by MoRD (as 20 RSETIs did not furnish the requisite data to MoRD in time) and out of these 506 RSETIs, 117 Institutes were rated 'A+' and 'A' grade.
In commemoration of the first Anniversary of signing of MoU, the Ministry of Rural Development organized a National meet of RSETI stakeholders for recognition of best performers who had secured 'A+' and 'A' rating, on 28.07.2012 at Vigyan Bhavan, New Delhi.The awards were given away in a glittering function by Sri Jairam Ramesh, Hon'ble Minister for Rural Development, Govt. of India in the august presence of Dr. D. Veerendra Heggade, Hon. Chairman, National Advisory Council for RSETIs.
Speaking eloquently on the occasion Sri Jairam Ramesh mentioned that the RUDSETI concept, which the MoRD has chosen to replicate throughout the country, is a time tested and successful model. But RSETIs set up by different Banks will be successful only if the sponsor Banks take the programme as apart of their mainstream activity. RSETIs set up by various Banks in the recent past should try to achieve the quality level of original RUDSETI so that they would ultimately reach the outcome levels expected of them. Sponsor Banks should own the RSETI programme and post suitable Officers with the right aptitude as Directors. He was all praise for the selfless service and visionary leadership of Dr. Heggade, who has been responsible for the success of RUDSETI. He wished that instead of just one, if there were 100s of Veerendra Heggades in India, India would have been very prosperous country today.
Later on Sri Jairam Ramesh and Dr. D. Veerendra Heggade released the Activities Report of NATIONAL CENTRE FOR EXCELLENCE OF RSETIs and also the Manual of Best Practices brought out by National Academy of RUDSETI.
Speaking on the occasion, Dr. D. Veerendra Heggade, Hon. Chairman, National Advisory Council for RSETIs, expressed his happiness that RUDSETI, which was started in a humble way, has today become a flagship programme of MoRD. He hoped that the award ceremony conducted by MoRD will galvanise and motivate all the Sponsor Banks, Directors of RSETIs, PD: DRDAs and other stake holders not only to perform better but also excel in their RSETIs. While he requested the Banks to finance the needy and eligible RSETI trained candidates to set up their own ventures, he opined that training in RSETIs should not become an easy route to get a loan. If a trainee is highly motivated, he starts an enterprise even if he doesn't get a bank loan. A tie up between SHGs and RSETIs would be mutually beneficial as SHGs can act as the catchment area for the RSETIs, Dr Heggade said.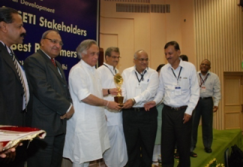 Smt. Renuka Kumar, Deputy Secretary, MoRD welcomed the gathering. Sri M. G. Sanghvi, Chairman & Managing Director, SyndicateBank and Smt. Archana S. Bhargava, Executive Director, Canara Bank, both the co-sponsor Banks of RUDSETI, spoke on the occasion. Sri S. Vijay Kumar IAS, Secetary, MoRD and Sri T. Vijay Kumar IAS, Joint Secretary, MoRD spoke on the expectations of MoRD and the grading system adopted for rating RSETIs respectively. The Chairman & Manging Directors of Vijaya Bank, United Bank of India, Managing Director of State Bank of Hyderabad, General Managers and other top Executives from various Banks and all the State Directors for RSETIs of Monitoring Cell were also present on the occasion. Sri K. N. Janardhana, National Director for RSETIs, Monitoring Cell proposed a vote of thanks at the conclusion of the event.
Apart from felicitating 117 RUDSETI/ RSETI Directors who had secured first, second, third and consolation prizes, A+ and A rating, the corresponding Project Directors of DRDAs were also felicitated during the function.
Click here to view more photos…
The list containing RSETIs who secured A+ and A Grade together with gradings secured by all the RSETIs in the country – both bankwise and Statewise can be accessed by clicking on the following links: